2pcs CBA-U01-S07ZAR 7ft 2M USB CABLE for MOTOROLA Symbol LS2208AP LS1203 LS4208(Barcode Scanner)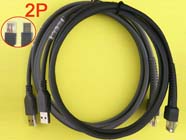 Voorraad:

Op voorraad !

Bestelnummer:
ECNM10231
Type:
Cable
Dimension:
Color:
Merknaam:
Motorola
Condition
(Brand new)
Normale prijs: € 34
Onze prijs:

€ 22.11

Cheap 2pcs CBA-U01-S07ZAR 7ft 2M USB CABLE for MOTOROLA Symbol LS2208AP LS1203 LS4208(Barcode Scanner)
Manufacturer Part Number: CBA-U01-S07ZAR STRG L

Product Model: CBA-U01-S07ZAR
Product Name: CBA-U01-S07ZAR USB Straight Cable
Product Type: Data Transfer Cable

Technical Information
Cable Type: USB
Cable Length: 7 ft
Connector on First End: 1 x 4-pin Type A USB
Conductor: Copper Physical Characteristics
Color: Gray

Compatible with these model:
DS3407, DS3408, DS3478, DS3508, DS4208, DS6707, DS6708, DS6878, DS9208, LI4278, LS1203, LS1908, LS2208, LS3008, LS3408, LS3478, LS3578, LS4004, LS4008i, LS4208, LS4278, LS7708, LS7808, LS9203, LS9208, M200x... etc.
This straight, Series A Connector, USB cable is 7 feet long.

* Mocht de toch niet passen of het probleem niet oplossen dan kun je jouw aankoop binnen 30 dagen na ontvangst retourneren.
Uitgelichte Categorieën
AC Adapter Nieuwe producten
Batterij voor ARRIS BPB024 BPB026S TM602G/115 TG85 2400mAh/18Wh 8.4V
Batterij voor Hilti B 22/2.6/2.1Ah Cordless tool 2.6Ah 21.6V
Batterij voor BOSCH PBA 18V 3.0Ah W-B 3.0Ah/54WH 18V
Batterij voor Maxwell K2 2.7V 3000F+Connecting piece super capacitor G721 XH 2.7V
Batterij voor SIEMENS 840D #T3267 YS 3V
Batterij voor Honeywell Intermec 318-055-001 4040mAh/14.6Wh 3.6V
Batterij voor MITSUBISHI PLC F940 3PCS 1100mah 3.6V
Batterij voor MAXELL ER6C AA Mitsubishi FX PLC F2-40BL 1800mah 3.6V
Batterij voor Netgear AirCard 790S 790SP 810S 2930mAh/11.1Wh 3.8V
Batterij voor SYMBOL 82-97300-01 82-97300-02 ZEBRA 3.7V 950mAh #T6435 YS 950mah/3.52Wh 3.7V